Buffalo NAS Recovery
Buffalo NAS devices are extremely common in the Irish workplace and home office environments for their ease-of-use and flexibility.
Their desktop NAS devices have between 1 and 8 bays while their rackmount versions have between 4 and 12 bays.
We perform data recovery from Buffalo NAS devices, including the:
Buffalo Linkstation series
Buffalo Terastation series
More specifically, we can recover data from the following models:
Terastation 300
Terastation 5000
Terastation 7000
LinkStation 210,410,421
LinkStation Mini
LinkStation Duo
LinkStation Pro
We can perform RAID data recovery from Buffalo devices with problems, such as:
Your Buffalo NAS LED is flashing red
Your Buffalo NAS volume will not mount
Your Buffalo NAS has gone into degraded mode
One of more of your disks in your Buffalo NAS has failed
We can help you if your Buffalo NAS is displaying error messages, such as:
"Firmware has failed."
"The RAID cannot be mounted. Perform disk checking of the RAID array on the web Admin interface of LinkStation."
"Hard drive cannot be found. The hard drive is not connected, or maybe failed. Set the hard drive again after shutting down the LinkStation"
"An error occurred and the hard drive was removed from the RAID array."
"An error in a RAID Array has been detected."
"Disk error notification"
Frequently asked questions on Buffalo NAS
I have a Buffalo Terrastation and it's error LED is flashing red. What should I do?
A hard drive status LED light that is flashing red usually indicates disk failure.
Here are some best practice guidelines for hot-swapping a failed disk drive in a Buffalo Terrastation:
Replacing a drive whose status is not red can result in data loss. Only remove the drive which has a red status LED.
Access the Terastation's Web Admin panel and dismount the faulty drive before removing it.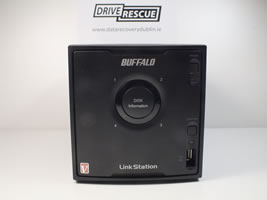 I cannot format the drives in my Buffalo Linkstation. Only the error message "format failed update aborted" is displayed?
Open up your Linkstation Updater software.
Enter into Debug Mode.
In Debug mode, make sure that "Do not check version" and "Rebuild partition table" are ticked.
Click OK.
If you still see the "format failed" error message, go back into Debug Mode again and select the following:
Update BOOT
Update KERNEL
Update initrd
Update rootfs
Make sure that "Force update" is not checked.
Select OK and then Update.
Your Baffalo NAS will now reboot a couple of times and you should have freshly formatted drives.